The Fall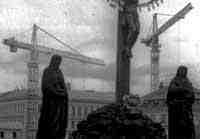 B

lack clouds linger in a darkened sky as chill air infiltrates a crack in the window sill. Already the threat of Winter has forced the Sun into hiding. The hours of light are dwindling, leaving behind nothing but gloom. In the streets and in the parks the crowds have dwindled. Instead they seek shelter behind closed doors, comforted by forced heat and false light. Spirits drop, tempers flare, a vast portion of humanity seems destined to surrender to depression early this year. Spring fever fades and the thin line between love and hate becomes even more indistinct. Tis the beginning of the time where many become pensive and withdrawn, retreating to their homes with a good book to wait it out, while others simply seem content to become louder and more offensive - As though somehow by railing in frustration at everyone and everything will somehow chase away the seasonal blues.



S

ome welcome the arrival of Autumn; the coming of The Fall.

I

t's a magical, seasonal wake up call that all will not remain sunshine and roses forever. All good things come to and end. It is inevitable. Those overly jovial constructs, with their contrived happiness and freakishly unfounded faith in the underlying good will of the world begin to fail. The mundane act of scraping the morning frost from their windshield seems to take its toll. It becomes difficult for them to muster the energy required to maintain their lighthearted jubilance.

The Fall of springtime lovers.
The Fall of the frivolous frolicking.
The Fall of flirting and dreams of the future.

E

yes still partially closed as they dwell too long on the past, regrets of what they have lost, or what they could have had. A desperate need to cling to fleeting memories and trivial emotions. A futile struggle against nature and a disgraceful refusal to let it die.

O

h, certainly some will be far more successful than others. They will manage to resuscitate some moment of happiness and try to relive it. Continue to breathe life into it for as long as possible and stubbornly refusing to let go. Until, at last, it twists in to some lifeless and tormented mockery of its former glory. Foul and tainted.

E

verything comes to an end.

A

nd the sooner that you let it -

T

he sooner it can be reborn.