Mahjongg and Mabon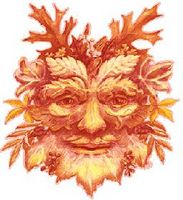 'T

is a day to frolick. A favorite pasttime of Neopaganists everywhere. What better excuse can you have to dance in the moonlight than the Autumnal Equinox? Build a bonfire, bang a drum, find someone to play the pan flute, and rejoice in the wonders of nature. The Japanese, at least, fully comprehend the importance of such a day. They decided it should be a national holiday.

W

hich seems odd - I don't normally view them as a society predisposed to dancing wildly and freely frolicking in the woods.

F

rivolous frolicking. Fun in the forest. Fanatics spouting rhetoric about the celestial importance of the day as they desperately try to tap Mother Nature's power. Capricious cavorting throughout the woodlands. Naked. Closer to nature. Giving yourself over to the spirits of the wild. Oh, to find that center point within. To feel balanced and together. Relaxed tension and balanced focus. And to feel the connection to everyone. To be one conciousness.


B

lessing from the Cauldron of Ceridwen. Ecstacy of the Spirit.


T

urn East - Call to the Winds.


T

urn South - Call to the Flames.


T

urn West - Call to the Rains.


T

urn North - Call to the Stones.


C

onsider the possible,


E

xplore the probable,
and question the truth.


B

lessed be and Divine do.


A

ll that dies shall live again.


O

h Good Lord and Lady... It's an outdoor Rave gone awry. An excuse for the bored, the lost, and the lonely to gather about and roast marshmallows while watching the firelight flicker over the glistening nakedness of their fellow free spirits. Feel the love. Give in to it. It is the will of The Mother.


O

ur hearts beat in unison. You can't deny the power of this night. Cast aside your inhibitions. Embrace the balance.


E

mbrace me.


S

moke your weed.


L

ines of cocaine in the car.


T

abs of acid make their rounds.


T

he group in the back has 'Shrooms.


W

ho brought the ecstacy?


C

hemically imbalanced with a muddled mind.


Y

es, you fraudulent frolicking fuck - I can feel it too.