Section 8
I

t's one of those days where I feel a desperate need to communicate. Unfortunately I have absolutely nothing of value to communicate. My mind is in that discomforting state that occurs when a millions thoughts race through your head at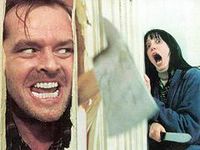 an alarming rate and nothing stays there long enough to form into a coherent idea. It's cerebral recrement, or perhaps excrement is the word I am reaching for. Certainly it is unmitigated crap. Whatever it is it smells bad and it makes me queasy.



N

ow usually this condition is common only during periods of increased stress or apprehension. Something that occurs in anticipation of something which I find awkward or disagreeable - Like public speaking or informing someone that their employment has been terminated. Currently; however, life is relatively uncomplicated and free of any urgent concerns that I would expect to result in this odd feeling of anxiety.
So, whilst discussing this little problem with a dear friend of mine they reminded me of a troubling little problem I have that has proven to be vexing time and time again. It's a little curse that has plagued me ever since I can remember and it seems unwilling to cease any time soon. So far in my life I have only encountered two people who appear to be exempt from the curse and one person who seems to seriously understand the condition. Cause for concern? Of course not - A minor quirk, nothing more.

T

o delve quickly towards the crux of it all:

I

have been stricken by the

Three Day Malediction

.

T

o try and explain:

N

o matter how much I like someone, despite the fact they are perfectly nice, normal, intelligent, and interesting people and attractiveness notwithstanding I, after 72 hours, begin to resent their presence. Every fiber of my being seems to shrink in upon itself and begins to despise the offending interloper that dares infringe upon my time. The sight of them, the sound of their voice, even merely knowing they are close brings an almost overwhelming feeling of contempt. They become absolutely loathsome. Generally a full 24 hours apart is sufficient time to allow me to revert back to normal. 48 hours guarantees it.

T

his, I now realize, is the source of my distress. Since Thursday I have been charged with the responsibility of training someone to do my job. Which pretty much means that for 14 - 15 hours a day I have a human shadow. 5 days with no respite and none looming on the horizon until June 8th. I'm doomed - My tenuous grasp on sanity is threatened.

O

h my... can you say Sociopath boys and girls?

A

nd so ends tonight's rendition of instability Unleashed.

I

need a drink.